During a moment of procrastination earlier today (I was supposed to be working on an Essay for uni), I was reading the always brilliant and informative blog at http://www.inrng.com
The most recent post http://inrng.com/2012/04/biocashflow-wristbands/ was about the blatant use of twitter  for product endorsement by one of my favorite riders, Gerraint Thomas. 'G' had tweeted about his new Bioflow Sport wristband, writing 'Bioflow sport not only looks great but it gives me the confidence in my performance and helps me stay focused in the race'.
If that isn't something a PR or marketing man as written I will eat my lucky quick step hat! But fair play to him, we all moan about how little Cyclists are paid compared to pro's in other sports and stuff like this blatant soul selling is how they supplement their 'meagre' wages. Good on you G… If people are stupid enough to buy a magic wristband that promises to make them a better cyclist…. Do we really think he drives a Fiat Punto?
Cycling is a ruthlessly commercial sport! I could show hundreds of photo's of teams trying to sell us things at the start of the season (Most of them have Tom Boonen in…), mattresses, hearing aids, bikes, drugs, flooring…. anything and everything. Largely they are everyday products, as the bulk of cycling's traditional viewership is not skinny lycra clad fans, but housewives who are home in the day, therefore able to watch the hours of coverage.
Sponsors make or break teams on what seems a regular basis.  What ever happened to the most successful pro team in the world last year? The sponsor disappeared, so did the team. If Bioflow had come in and saved the day by offering to fund HTC's involvement in the sport then we would ALL be wearing the wristband and lauding them as saviors of cycling.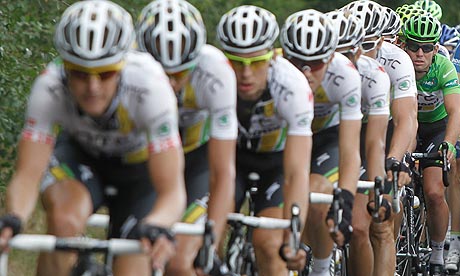 In an Olympic year sport is worth Billions in advertising, if you dont like seeing cyclists trying to sell you things… you are going to be very annoyed as year rolls on. I suggest you sit down relax and have a bowl of Chris Hoy approved cereal…Or perhaps a nice drink… How about some lovely Amstel Gold?
Anyway.. all this puts me in mind of one of my favorite cyclist/salesmen.. The great Eddy Merckx, shilling cigarettes!
Loads more examples here http://www.flandriacafe.com/2010/07/alphonse-take-memo.html